Shopping in Durham: Finding the Best Deals and Steals

If you're a retail warrior, a true bargain hunter, you can really clean up in Durham, NC. There are malls, shopping centers, downtown shops, and discount stores all over the city. You can find the best daily deals in Durham when you know where to go. And because everyone's idea of a "great deal" is not necessarily the same, you'll find a great deal of variety in these suggestions. From the best prices on used VW beetles to sales on shoes, there's a huge variety to appeal to most anyone's shopping tastes.
The Streets at Southpoint
If you're looking for bargains on brand name clothing, accessories, electronics, home décor, books, and more, Southpoint Mall is your one-stop shop. An indoor/outdoor mall that combines the best of both worlds, you can shop inside or stroll along and enjoy a snack outside. With stores ranging from Gap to GameStop, there's a spot for everyone.
Discount Stores for Big Retail Savings
Durham certainly has its fair share of bargain stores. Find brand name clothes at slashed prices at Marshalls, TJ Maxx, and Ross. Make the most of every dollar at Dollar Tree, Family Dollar, and Dollar General. Big Lots and Ollie's Bargain Outlet have a variety of home goods, toys, and miscellaneous items at rock bottom prices.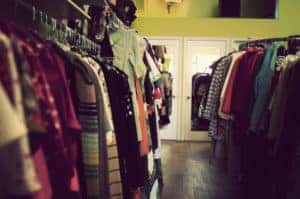 Find Your Diamond in the Rough at Local Consignment Stores
Classic Treasures furniture consignment and Vintage Home South are just a few of the best places to find quality used furniture at affordable prices. Refinements Retail Boutique and Fifi's Fine Resale Apparel carry only the most selective second-hand clothing items and accessories. There's a big difference between high-end consignment and thrift stores or flea markets, and those mentioned here are among the best in the area for quality second-hand items.
Downtown Durham Shops
For a truly unique local shopping experience, try a few of Durham's best downtown shops and boutiques. Vert & Vogue carries cutting edge fashion for both women and men. Letters Bookshop has an eclectic collection of books and can order any title you don't find. Area Modern Home sells upholstered furniture made in North Carolina. Parker and Otis in the Brightleaf district is a restaurant and gift shop selling wine and cheese along with other specialty foods. These and many more local shops offer a shopping experience that is uniquely Durham.
Find New and Used VW Beetles and Other Models at Durham Volkswagen
If you're car shopping, and especially if you're a value minded shopper, Durham VW is your local dealership. New, certified pre-owned, and used VW Beetles, Jettas, Golfs, Tiguans, and other popular models are currently available with a range of prices and packages. The latest safety features and technology are an option on all new 2018 models. Leasing and financing make it affordable for you to drive your dream vehicle today. The service department provides ongoing care for your Volkswagen throughout its lifetime and your ownership. To inquire about current inventory call (919)493-7411 or visit 3823 Durham Chapel Hill Blvd. in Durham.