What You Need to Know about Apex, NC
Apex, North Carolina, is a rapidly growing town due to its stellar location, top notch schools, career opportunities, and small-town sense of community. Steeped in history but also current, Apex has old-fashioned charm and modern amenities. You'll find local shops in historical downtown Apex or commercial stores or car dealerships near Apex, NC, for your shopping pleasure. Beautiful homes in excellent neighborhoods are on the market now, as well as the opportunity for custom building. The bottom line: Apex is ready to welcome you. Thinking about a visit or a relocation? Here's what you need to know about Apex, NC.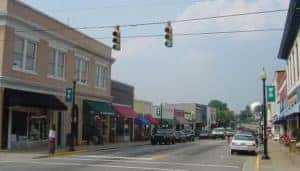 Location is Everything. Less than a half hour drive from the Research Triangle thanks to the new toll road, the Triangle Expressway, residents can enjoy a short commute to and from work. Living outside the city while still in close proximity to city amenities is a win-win situation.
High Salary Career Opportunities. If your career is in the tech industry, you'll find amazing opportunities here that rival those of Silicon Valley. The Research Triangle, made up of Raleigh, Durham, and Chapel Hill, is the technology hub of the east coast.
Reasonable Cost of Living. When you have a high-paying career, combining that with a low cost of living is a win-win situation. Reasonable housing costs for quality homes in safe neighborhoods is the norm in Apex. Keep more of your hard-earned money for fun like shopping and traveling.
High Rated Schools. The new Apex Friendship High School is fully equipped with technology such as 70-inch monitors and 3D printers. Elementary and middle schools in the area receive high ratings for academic excellence. Nearby charter and private schools offer additional education opportunities.
Small Town Feel. If you're looking for a close-knit community with family events and festivals, Apex has plenty. The PeakFest street fair, annual Jazz Festival, and weekly farmer's market are just a few of the opportunities to have fun and support the local community.
Low Crime Rate. 49% lower than the national average, Apex is safer than 64% of US cities. A great place to raise a family where you can walk down the street and feel at ease.
Plenty to Do. Whether you like to get outdoors and hike or bike, or catch a movie inside on a rainy day, there is always something to do in Apex. Apex Nature Park, Kelly Road Park, and Apex Jaycee Park offer recreational opportunities of all kinds from playgrounds for kids to ball parks and greenways.
Come for a Visit, Stay for Life
Once you have visited Apex, NC, you will surely want to make it your home. The area offers so many benefits from job opportunities to affordable housing. Local businesses thrive in the area with even more in the nearby bigger cities of Raleigh and Durham. There are car dealerships near Apex, NC, such as Durham Volkswagen. Retail stores, shopping centers, malls, grocery stores, pharmacies, and anything else you might need are conveniently located. Join the community of Apex and help the area continue to grow.